The sitter (1837-1928) was the daughter of Lyndon and Martha Abell, was born and grew up in Rome, New York and married Thomas Hartley Seymour in Rome, New York on 2 September 1857. She had two daughters Harriet Louise Seymour Carscallen (whom Muller-Ury painted) and Catherine Seymour Cruthers. Thomas Seymour, a prominent member of Chicago's Board of Trade, bought the Nobel-Seymour-Crippen House in Chicago and land in 1868. He and his wife Louisa built the Italianate addition in 1868 to accommodate their large family and servants. Mr. Seymour raised cattle and cultivated an orchard of apple and cherry trees and a vineyard. Seymour joined the Norwood Land and Building Association in its efforts to build a moral, healthy and beautifully landscaped suburban village. This led to the purchase of six farms and the founding of both the Township and Village of Norwood Park in 1874. Mr. Seymour served as president of the Village for 14 years. When he died in 1916, the property was sold.
Painted in Pasadena probably after Muller-Ury's new studio was completed in 1925 as it is not mentioned in the letter from Harriet Carscallen to the artist dated July 1924 in the artist's papers. According the the Pasadena Census for 1920 she was 92 (?) at that date (but she was only 90 when she died in 1928). Muller-Ury pasted a photograph in his third scrapbook, possibly of a 90th birthday celebration for Mrs Seymour, in which her daughters Harriet Seymour Carscallen and Catharine Seymour Cruthers are present with William Liston Brown.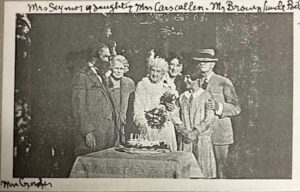 The sitter was the sister-in-law of William Linton BROWN, 'Uncle Billy', and mother of Harriet Seymour CARSCALLEN, both of whom Muller-Ury had painted in 1923/4.